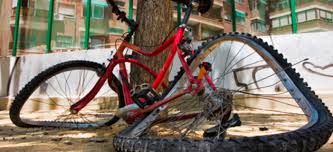 Injured Bicyclist, who is liable?
Injured by a car when bicycling? What are your options?
A bicyclist is in critical condition Wednesday after he was struck and run over by a driver who police said suffered a diabetic emergency on Cleveland's west side Tuesday night. The cyclist, 71, was headed east on Lorain Avenue near West 150th Street at about 5:45 p.m. Tuesday when a 40-year-old man in a Subaru Forester hit him from behind, police said. Cleveland police's accident investigators said the man was seen driving erratically as he headed east from Rocky River Drive just before his car struck the cyclist.
This is a truly tragic incident all around, but how can a cyclist be protected in the aftermath of an event like that? In Ohio, if you are struck on your bicycle by a negligent driver you can make a claim against the driver's insurance company to recoup medical bills and pain/suffering. But what happens when the person who hit you isn't insured or his or her insurance doesn't cover your medical expenses and damages? The another option is to make an uninsured or under insured claim against your own insurance carrier. One could possibly even make a home owner's claim against your own insurance under the argument that a bicycle is a household item. Taubman Law has handled many bicycle accidents, and over my 35 years experience as an attorney, I've learned how to pursue every possible legal avenue to protect your interests when you're injured.
It appears that the person who hit the bicyclist was having a diabetic seizure. Generally, Ohio law holds that if a driver who causes an accident was violating a traffic ordinance at the time of the crash, that driver is presumed to have acted negligently. In the 1956 case of Lehman v. Haynam, however, the court established an exception to this doctrine. In Lehman, the court held that a driver cannot be held negligent if he was unable to control his vehicle as the result of losing consciousness during a sudden medical emergency that he could not anticipate or prevent. The decision has remained controlling in Ohio trial and appellate courts to the present time. In the above accident, the injured bicyclist's only cause of action would be against his own insurance carrier or possibly his home owner's policy.
If you, a friend or a loved one have been struck by a car while riding a bicycle in Ohio, contact us for a no-cost consultation. Let our legal team of Bruce and Brian Taubman help you recover your medical expenses and damages for the pain and suffering. Bike safe, Ohio!
This post was written by Bruce Taubman, an attorney in Cleveland, Ohio, who has been practicing plaintiff work for nearly 40 years. You can reach out to Bruce at brucetaubman[at]taubmanlaw.net.
Related Posts