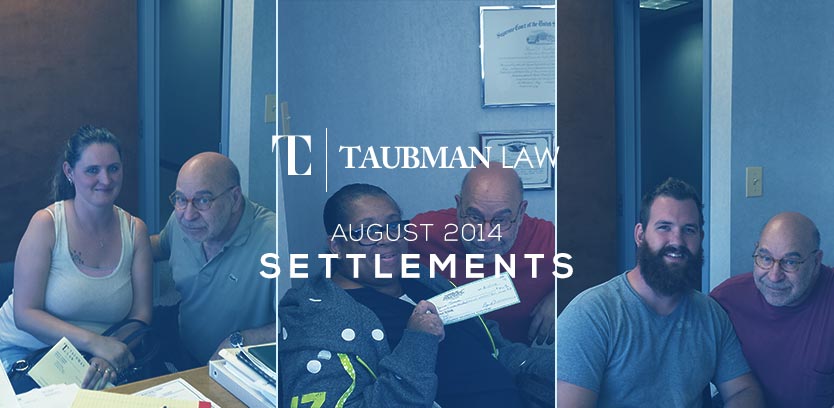 August 2014 Settlements
         Just A Few of our August, 2014 Settlements including
Car Accidents, Workers Compensation Settlements and more!
Thomas Walsh
Taubman Law settled a self insured claim for $57,500.00 after 25% of the working wage loss compensation had expired and before the injured worker was examined for PPD. The claim was allowed for multiple fractures of the right ankle which had surgical pins and screws added. Also, these injures caused a physiological injury which we got included in the claim. See why he's so happy!
Kelly West
This is the second part of a workers compensation claim and an auto accident. The workers' compensation was settled with the Tatted of Ohio and when the auto accident was settled for $15,000.00 the BWC agreed to take $4,600.00 in complete satisfaction of their subrogated lien in the amount of $19,573.65. See how excited our client was to save money.
Joshua R.
A fracture of his right humerus for Self Insured Employer. claim was allowed for all medical bills and lost time was paid. In addition, he received an 8% ppd (link here) award and 5 years later Taubman Law renegotiated a $5000.00 settlement after all his other disability benefits were received and was no longer an employee. Here at Taubman Law we manage your claims for life and rind multiple way to get you the benefits and money you deserve. See how happy Joshua was with this outcome.
Edith L.
This was a case in Court for an Self Insured employer on the issue of whether or not additional conditions should be added. the underlying claim was allowed for a lumbar sprain.
We at Taubman Law settled this case for $6000.00 without having the employer resign from her employment. This is the first case settled by the self insured where the Injured worker was not required to resign her employment. This was a huge success. See how happy Edith was that she could keep her job.
Related Posts