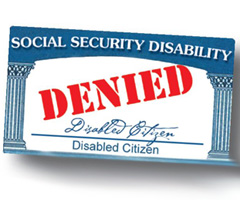 Understanding how to manage the Social Security Disability appeals process in Ohio
When you've been injured on the job, navigating the next steps to protect the rights of you and your family is often very confusing. It can be even more complicated if you've been hurt and you're denied Social Security disability.
If you were denied Social Security disability for an on-the-job injury, you can appeal the ruling. When you request an appeal for your Social Security disability payments, you'll go through the appeals process before you can receive payments.
To get started, you need to send a signed request for the appeal, showing that you disagreed with the decision. Next, send in any additional information that has been requested and complete documents. If you were previously rejected for missing items, this may be a good time to speak with someone familiar with the law in Ohio so you can turn in the appropriately filled out paperwork. This is something we can help with at Taubman Law, but even if you don't use our services, we'd highly recommend working with someone who has significant experience on these matters.
After this, the Social Security Administration should get in contact with you to have you fill out a disability report and to get a signed medical release form. If you've already sent those in, they will be reviewed. The next step, if you have new medical records, is to turn those in as well.
To fully handle your appeal, you will need to go to a face-to-face interview. This is important, as showing up in a face-to-face situation allows the person making the decision to see and understand any physical portions of your disability. The appointment allows you to discuss any confusion or concerns you have as well.
You should receive a notification indicating the department's decision on your case after that. In many cases, your appeal should be approved. However, if it isn't, it's definitely time to speak with someone who can help you. When you're injured and it's the fault of your workplace, employer or someone else, you have a right to these payments to provide comfort and ease to you and your family.
This post was written by Bruce Taubman, a Cleveland attorney who practices workers' compensation, personal injury and medical malpractice throughout Ohio.
Related Posts