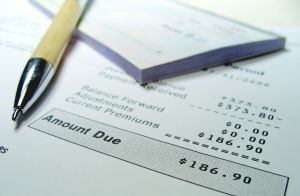 Is Lump Sum Advancement the Right Choice for Your Workers' Comp Payment?
An injury on the job always seems to occur at the most inopportune time. As the old Murphy's Law adage goes, "Anything that can go wrong, will go wrong."
Thankfully, there's no need for you and your family to endure financial misery while waiting for workers' compensation checks to arrive periodically.
Under Ohio law, injured workers facing financial hardships have the right to apply for Lump Sump Advancement – a bulk prepayment of future compensation for a specified purpose available to those receiving Permanent Total Disabilty (PTD) or scheduled loss awards. Rather than receiving compensation gradually over the course of months or years, the recipient obtains a larger portion of the payment up-front and all at once.
Lump Sump Advancement can be used to cover an array of miscellaneous financial needs, including household bills, emergency purchases and repairs, installation of handicap equipment, medical expenses and school tuition.
Your attorney at Taubman Law can assist with completing the Application for Payment of Lump Sum Advancement with the Ohio Bureau of Workers' Compensation (BWC). Eligible recipients must be able to demonstrate a financial need and have supporting documentation attached to the application.
While the allure of receiving up-front money may seem strong, injured workers are cautioned to consider all options prior to pursuing Lump Sum Advancement. Money now can be preferable to money later, but at what cost? Are there alternative means by which an injured worker can cover expenses until more funds gradually pour in? (Workers' compensation benefits checks typically are paid in two-week increments.)
Similar to mega-lottery winners who accept penalties in order to take a lump-sum payment rather than an annual payment plan, Lump Sum Advancement comes with a sacrifice. Payment of Lump Sum Advancement generally results in a rate reduction for future scheduled loss awards.
Additionally, a strong, gradual flow of compensation payment helps ensure funds remain available longterm, regardless of an injured worker's ability to practice responsible spending.
Still, there are many instances in which pursuing Lump Sum Advancement is absolutely necessary. When coping with a work-related injury, you shouldn't have to be worrying about you and your family's financial health as well.
At Taubman Law we can help you decide whether Lump Sum Advancement is the best option for you based on your personal situation and needs. Should this option prove optimal for you, we'll do everything we can to seek approval with the Ohio BWC for your application.
____________________________________________________________________________________________________
This post was written by Cleveland attorney Bruce D. Taubman, who practices workers' compensation, personal injury and medical malpractice throughout Ohio.
Related Posts